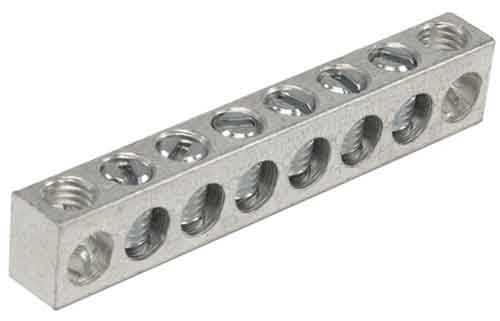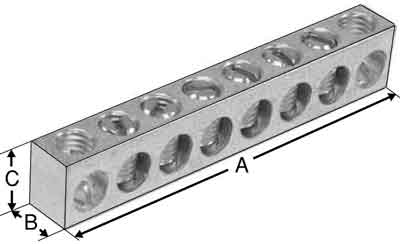 Dimensions
A: 2.56" (65.0mm)
B: 0.31" (7.9mm)
C: 0.44" (11.2mm)
See Mechanical Drawing for detailed dimensions
Limited quantity available. For larger quantities please email us at sales@lugsdirect.com or call 330-562-8983.
4-8,1,8 Neutral Bar (6) circuit, (2) #10 mounting hole wire range 4-14 AWG Neutral/Ground bar, Dual Rated, Aluminum & Copper wire, CU9AL 90C Rating, UL Recognized at 600v - acceptable for use through 2000v, CSA Certified. Brumall brand.
UL486A,B, ZMVV2 RoHS 9/10
Q. Can I use a ZMVV2 UL Recognized

(not ZMVV Listed) wire connector for grounding?
A. Only after further UL investigation for the mounting means and probably other "Conditions of Acceptability" that are defined in the ZMVV2 Recognized file and with more delay and added evaluation cost. That is not normally considered worth the trouble if a Listed ZMVV wire pressure connector is available.
(6) circuitos, (2) #10 hoyo que monta, 4-14 AWG Barra del Neutral/Tierra, Doble Valorado, el Aluminio & alambre de Cobre, la Calificación CU9AL 90C, UL Reconoció, CSA Certificó.