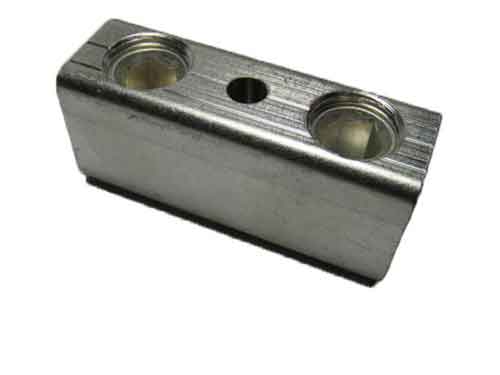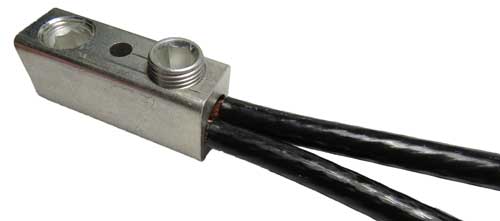 Approved for two to four wire use (two wires per barrel)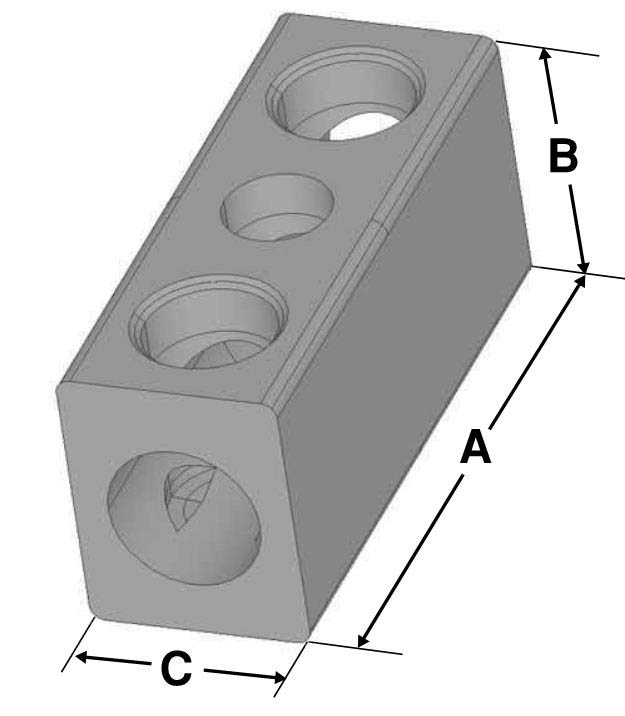 Dimensions
A: 2.50" (63.5mm)
B: 1.13" (28.7mm)
C: 0.83" (21.1mm)
See Mechanical Drawing for detailed dimensions
Two Wires Per Barrel

Wire Size AWG (mm2)

2

(33.6)

3

(26.7)

-

(25)

4

(21.2)

-

(16)

6

(13.3)

-

(10)

Code Copper
Y
Y
Y
Y
Y
Y
-
FLEX (class G-K)
Single Wires Only.
No mixing wire gauges.
"P250" 250 kcmil (4/0 AWG) Splicer-reducer, 6 - 250 kcmil (4/0 AWG), wire class B/C and FLEX wire, 3/0-6 AWG, G-K including mm2 class 5, with mounting hole. Rounded corners for easy taping or shrink tube. Aluminum or copper wire and FLEX copper wire, splicer or reducer CU9AL, 90C temperature rating, UL Listed at 600v - acceptable for use through 2000v. Hex socket screws. International Hydraulics Inc® brand. Made in the USA from domestic and imported parts. Mounting hole.
UL & Canada Approved for Multiple wires class B, C, 2X AWG 2-6 &2X 25-16 mm2 & (1X) FLEX wire Classes G-K sizes #3/0-#6 AWG.
Use of Ferrules (UL Listed) on wires 3/0-6
La gama del cable de AWG 250 kcmil -6 AWG, cable de aluminio o cobre, splicer o calificación de temperatura de reducer CU9AL, 90C, UL Listo, Tornillo Allen hex. Marca IHI. Hecho en EE.UU. de partes nacionales e importadas.
UL, Canada Cat. No. S250, E129884 UL486A,B, ZMVV