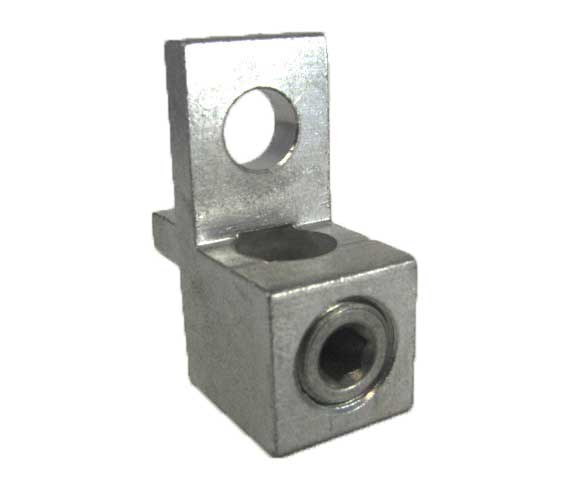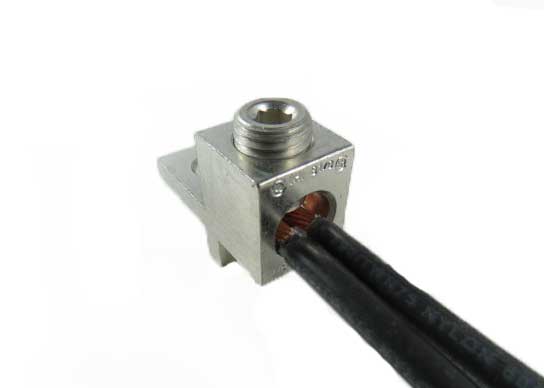 Approved for two wire use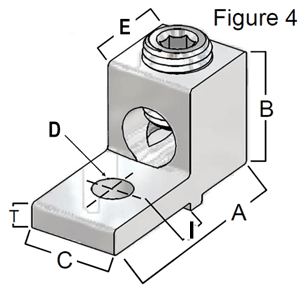 Dimensions
A: 1.46" (37.3mm)
B: 0.77" (19.0mm)
C: 0.64" (16.3mm)
I: 0.75" (19.1mm)
See Mechanical Drawing for detailed dimensions
Two Wires Per Barrel

Wire Size AWG (mm2)

4

(21.2)

-

(16)

6

(13.3)

-

(10)

8

(8.37)

-

(6)

10

(5.26)

-

(4)

12

(3.31)

-

(2.5)

14

(2.08)

Code Copper
Y
Y
Y
Y
Y
Y
Y
-
Y
-
Y
FLEX (G-K classes)
(1) Copper Single Wire Only, 1-8 AWG.
No mixing wire gauges.
"S1/0-TP-HEX" 1/0 AWG Single wire lug, 1/0-14 AWG wire range, Multipe (dual) wire class B/C and FLEX, 1-8 AWG, wire class G-K including mm2 class 5, single barrel, aluminum or copper wire, CU9AL, 90C temperature rating, one mounting hole with anti-rotation rib(turn prevent) , Hex Socket Steel Screw, UL Listed at 600v - acceptable for use through 2000v, Canada Certified. Transformer Lug - Replace Low conducting bronze with High Conductivity Dual Rated Aluminum. 5/16" bolt. IHI Connectors® brand.
UL & Canada Approved for Multiple Wires 2X #14 to 2X #6 and (1X) FLEX wire Class G-K sizes #1-#8 AWG
Use of Ferrules (UL Listed) on wires 1-8 AWG
"S1/0-TP-HEX" La gama del cable de AWG 1/0-14, cable de aluminio o cobre, la calificación de la temperatura CU9AL, 90C, solo montar hoyo con costilla anti rotación (la vuelta previene), el Tornillo de Acero, Allen, UL Listó, Canada Certificó. Conector de Transformer - Reemplaza realizando baja conductividad bronce con la alta Conductividad Aluminio Valorado Doble. Solo montar hoyo, de 5/16" tornillo. Marca IHI.Hecho en EE.UU. de partes nacionales e importadas.
Photo
Part Number
Description
Compare to: PNL-1/0, P
NL-1/0-2,
PNL-1/0-L,
PUC8-1/0,
53391,
PNL-1/0 MCI,
PNL-1/0-AB
Allen-Bradley 1494R-N2
MCI TRANSFORMER