250 kcmil (4/0 AWG) - 6 AWG
5/16" (8mm) Hex Socket Screw
3/8"
or 10mm
0.404" mounting bolt hole
CU7AL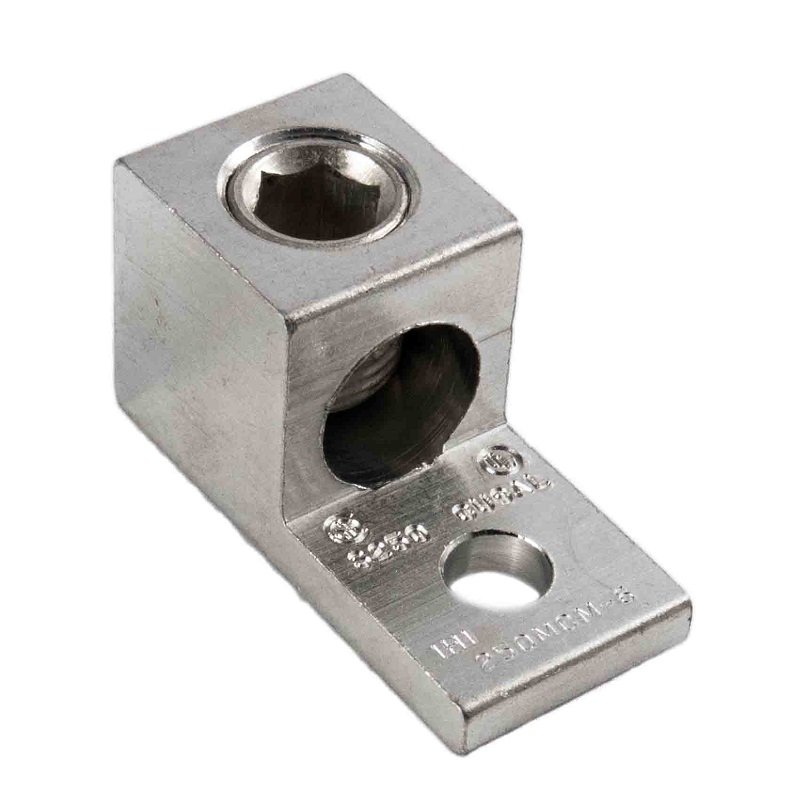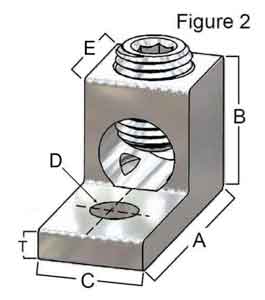 Dimensions
A: 2.00" (50.8mm)
B: 1.06" (27.0mm)
C: 0.79" (20.1mm)
See Mechanical Drawing for detailed dimensions
"S250-10.2-20M" 250 kcmil (4/0 AWG) Single wire lug, 250 kcmil (4/0 AWG)-6 AWG wire range, 3/8" (M10) bigger bolt mounting, NARROWER WIDTH Multiple (dual) class B/C and FLEX wire, 3/0-6 AWG, class G-K including mm2 class 5, single barrel, aluminum or copper wire, CU7AL, 75C temperature rating, one mounting hole, NEMA mounting holes and spacing; this is not a NEMA tested part, two 1/2" bolt mounting holes, UL Listed at 600v - acceptable for use through 2000v, Canada Certified. Larger 3/8" mounting bolt hole (Hole 0.40 inch dia.) International Hydraulics Inc® brand.
UL & Canada Approved for Multiple wires class B, C, 2X AWG 2-6 &2X 25-16 mm2 & FLEX wire Classes G-K sizes #6-#3/0 AWG
"S250-10.2-20M" 250-6 kcmil rango de cable AWG, 3/8 "(M10) de montaje grande perno, ESTRECHO múltiple ANCHO (dual) clase B / C y FLEX clase alambre GK incluyendo clase mm2 5, 1 barril, aluminio o alambre de cobre, CU7AL, 75C clasificación de temperatura, un agujero de montaje, homologado UL, certificado por Canada. agujero más grande de 3/8 "perno de montaje (agujero 0,40 pulgadas de diámetro.) marca IHI.