300 kcmil - 6 AWG
5/16" (8mm) Hex Socket Screw
1/4"
or M6
0.26" mounting bolt hole
OR
Modify Your Mounting Holes
CU9AL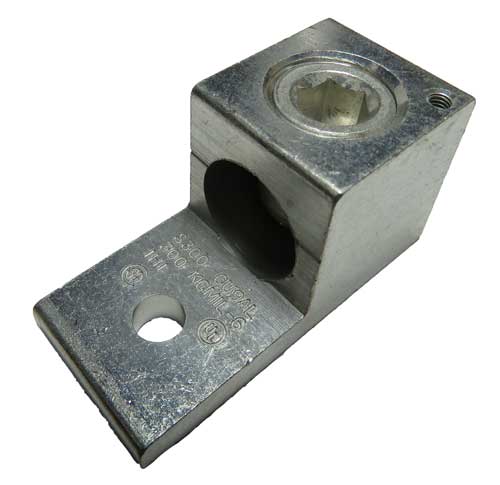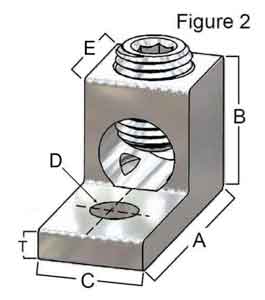 Dimensions
A: 2.00" (50.8mm)
B: 1.06" (27.0mm)
C: 0.91" (23.0mm)
See Mechanical Drawing for detailed dimensions
"S300-26-44-M" 300 kcmil Metric Single wire lug, 300 kcmil-6 AWG wire range, and FLEX, AWG 4/0-6, wire class G-K including mm2 class 5, single barrel, aluminum or copper wire, CU9AL, 90C temperature rating, one mounting hole, 1/4" mounting bolt hole. UL Listed at 600v - acceptable for use through 2000v, CSA Certified. International Hydraulics Inc. brand.
UL & CSA Approved for FLEX wire classes G-K sizes #4/0-#6 AWG.
Use of Ferrules (UL Listed) on wires 4/0-6 AWG
"S300-26-44-M" 6-300 kcmil rango de cable AWG, y FLEX clase alambre GK incluyendo clase mm2 5, 1 barril, aluminio o cobre alambre, CU9AL, 90 C rango de temperatura, un agujero de montaje, 1/4 "orificio de montaje de perno. Listado UL, certificado por CSA marca. IHI.