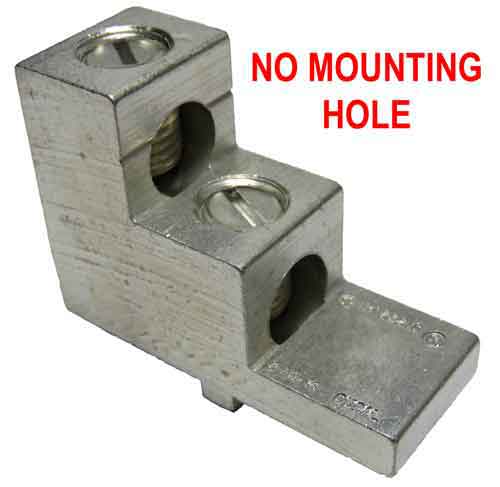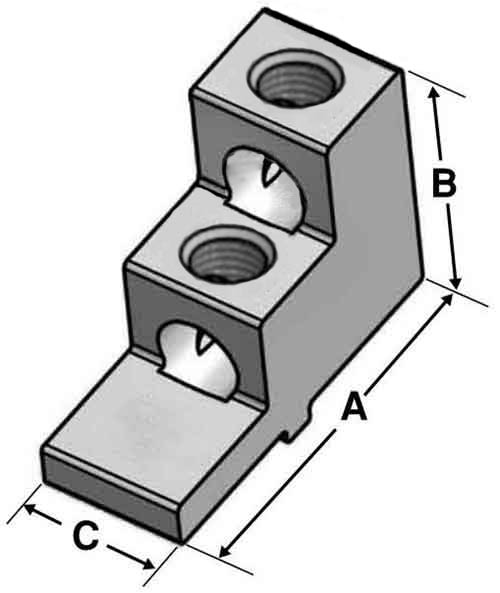 Dimensions
A: 2.00" (50.8mm)
B: 1.42" (36.1mm)
C: 0.77" (19.6mm)
See Mechanical Drawing for detailed dimensions
Drill your own™ mounting Holes!
This lug does not have mounting holes. You can decide where, how many, and what size holes you need for your own applications!
Mounting holes must be drilled by the customer per UL and Canada requirements. For drilling and modifying mounting holes see the Drill your own™ Guide for Field Drilling Mounting Holes and the 2S2/0-TP-STK-BLANK Print.
"2S2/0-TP-STK-BLANK-SLT" 2/0 AWG Double wire lug, 2/0-14 AWG wire range, and FLEX wire, 1/0-14 AWG, G-K including mm2 class 5, stacker type, two tier lug, double barrel, aluminum or copper wire, CU9AL, 90C temperature rating, UL Listed at 600v - acceptable for use through 2000v, Canada Certified.International Hydraulics Inc® brand. Made in the USA from domestic and imported parts.
UL & Canada Approved for FLEX wire Class G-K sizes 1/0-14 AWG