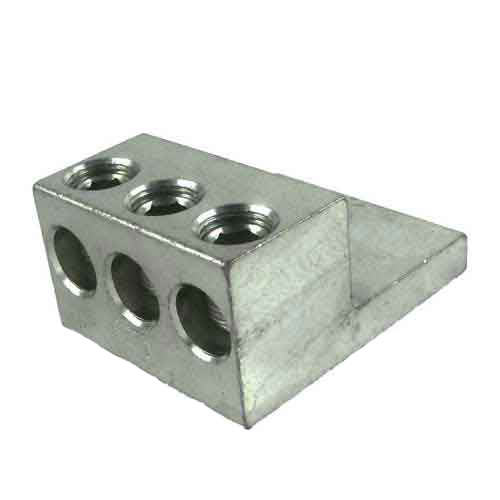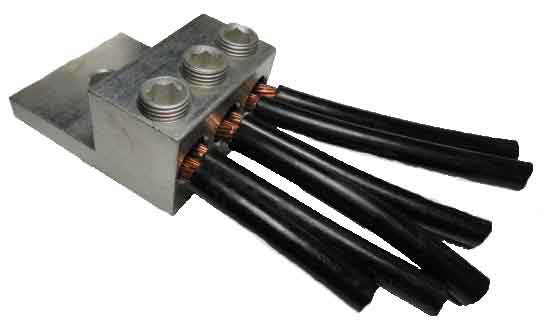 Approved for up to 6 wires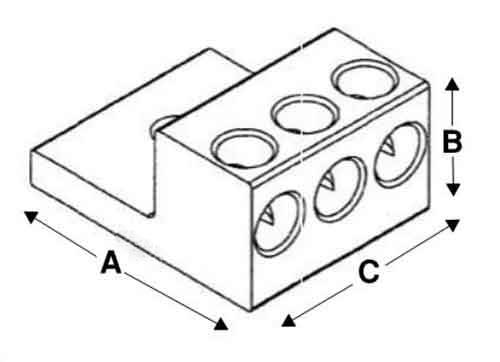 Dimensions
A: 3.13" (79.5mm)
B: 1.56" (39.6mm)
C: 2.50" (63.5mm)
See Mechanical Drawing for detailed dimensions
Two Wires Per Barrel

Wire Size AWG (mm2)

2

(33.6)

3

(26.7)

-

(25)

4

(21.2)

-

(16)

6

(13.3)

-

(10)

Code Copper
Y
Y
Y
Y
Y
Y
-
FLEX (G-K classes)
Single Wires Only.
No mixing wire gauges.
"3S250-53-81" 250 kcmil (4/0 AWG) Triple wire lug, 250 kcmil (4/0 AWG)-6 AWG wire range, three barrel, wire class B/C, multiple wire (dual) per end, FLEX wire, AWG 3/0-6, wire class G-K including mm2 class 5, aluminum or copper wire, CU9AL, 90C temperature rating, single mounting hole, NEMA mounting holes and spacing; this is not a NEMA tested part, two 1/2" bolt mounting holes, UL Listed at 600v - acceptable for use through 2000v, Canada Certified. IHI® brand. Made in the USA from domestic and imported parts.

UL & Canada Approved for Multiple wires class B, C, 2X AWG 2-6 &2X 25-16 mm2 & FLEX wire Classes G-K sizes #6-#3/0 AWG
GUIDE ON FLEX WIRE
For More Information Click the Icons Below


Rated Torque Label

RoHS 10/10
E129884 UL486A,B, ZMVV, 1243943 Canada 22.2 No.65