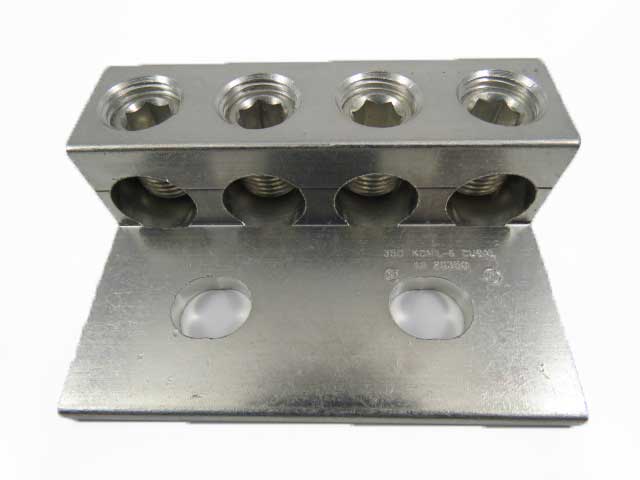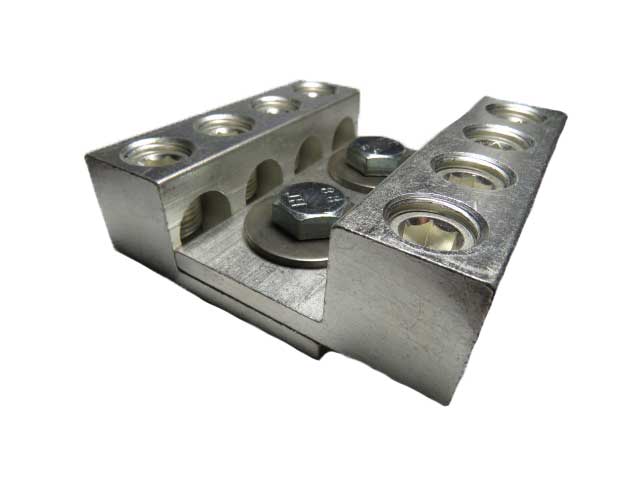 Dual/Interlocking Lugs Eight Wire Application
Hardware not included.
Lugs sold individually.
For more interlocking lugs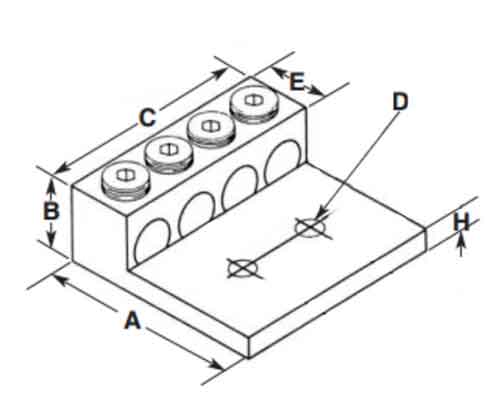 Dimensions
A: 2.88" (73.2mm)
B: 1.25" (31.8mm)
C: 3.98" (101.1mm)
L: 1.75" (44.5mm)
See Mechanical Drawing for detailed dimensions
"4S350-56-88" 350 kcmil Quadruple wire panelboard lug, 350kcmil-6 wire class B/C and FLEX, 262 kcmil-4 AWG, wire class G-K including mm2 class 5, panel Lug. Four barrel / wires (4 conductors) aluminum or copper wire, CU9AL, 90C temperature rating, two 1/2" bolt mounts at 1 3/4" or at 2" centers, NEMA mounting holes and spacing; this is not a NEMA tested part, two 1/2" bolt mounting holes, UL Listed, Canada Certified. Stacking, nesting, and interlocking lugs permitted under UL White book ZMVV. Current and temperature rating subject to the lowest temperature rated conducting part in the assembly.International Hydraulics Inc® brand. Made in the USA from domestic and imported parts.
Comparison between Panelboard and Switchgear
WIRE CONNECTORS AND SOLDERING LUGS (ZMVV)
INSTALLATION
Wire connectors are intended for use in installations covered by ANSI/NFPA 70, ''National Electrical Code'' (NEC), and should be installed using the prescribed manufacturer's installation instructions.
"Stacking of connectors (multiple connectors assembled using a single bolt, nut and washers) may be permitted where mechanical interference is reduced or eliminated with the use of offset tangs, stacking adapters, and the like. The surface contact area of the mounting tang should make completecontact with the mounting surface or the previously stacked connector tang."
Ref. UL White Book ZMVV section
ZMVV UL Whitebook Installation Information
" 4S350-56-88 - HEX " 350kcmil - 6 rango de cable , el panel Lug . Cuatro barril / cables ( 4 conductores ) de aluminio o cobre alambre, CU9AL , 90C clasificación de temperatura , dos 1/2 " montajes de perno de 1 3/4 " o en 2 centros " , UL Listed, marca certificación Canada . IHI . Hecho en los EE.UU.